I can't get over how many old friends from high school and college are getting engaged and married this year. From the pictures I have seen on Facebook and other social media sites, it looks like most of them have been given diamond engagement rings from their partners. I have to say though, they do look beautiful. I hope they love them as much as I do and now I can't wait to be joining them on their special journey. So that's why I'm really excited to be collaborating today in this special edition of my "Trending Now" series with the company, Dress W+E. This partnership comes just in time for wedding season, so it felt completely appropriate to team up feature one of the popular dress trends this year. Currently, there is a cheap wedding gown promotion of Dresswe.com. Since they're operate mostly online, you can pick & customize your dresses from their website and they will take it from there. It would be well worth to talk to other wedding gown creators similar to Winnie Couture (to visit site click here) to better understand what other options are out there.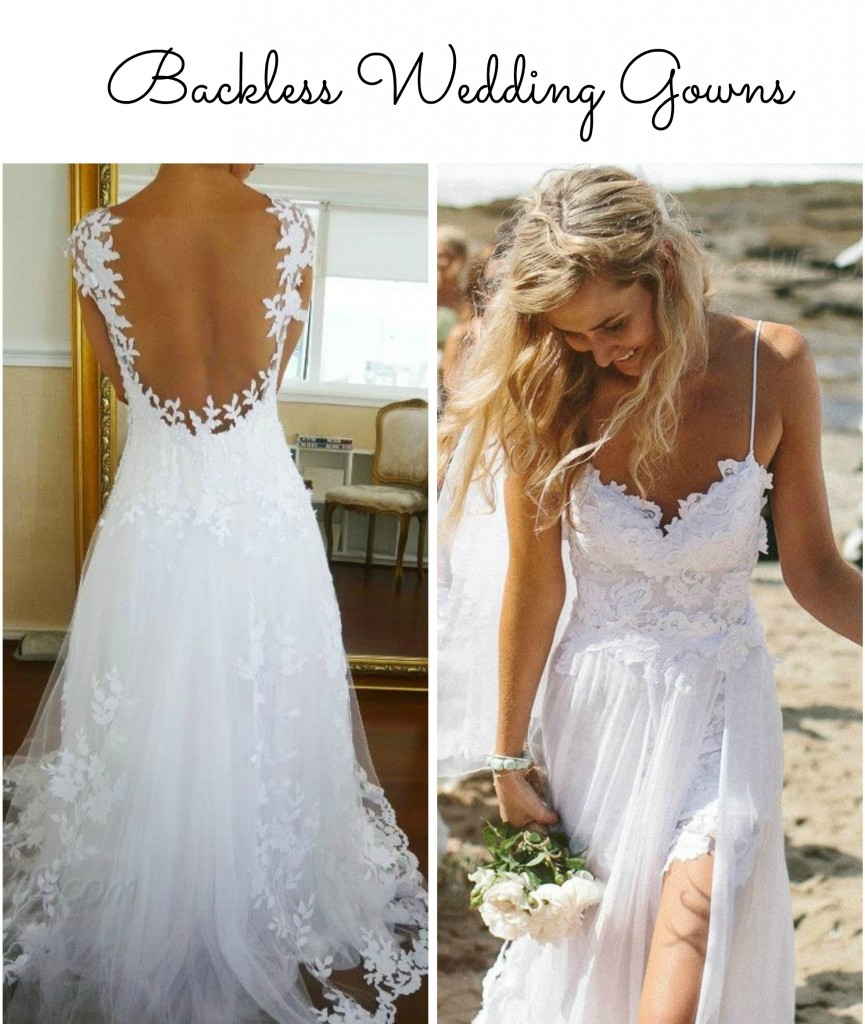 To me, there's nothing sexier than an exposed back – showing skin but in the most modest of ways. I'm completely enamored with the elegant lace gown on the left. The cap sleeves and charming lace overlay look so stunning. The dress is entirely backless, however I think the cut is done in just the right way and with a fabric that keeps the whole look very sweet and pure. Perfect for so many young brides in particular I think! Picking the right dress for you is one of the most important factors for brides to think about when it comes to planning their wedding. Not only do you want to feel beautiful on your special day, but you also want to make sure that your dress looks just as beautiful in your wedding photographs too. Professional photographers like Olga Topchii, (olgatopchii.com) or your chosen photographer will be able to make sure that the pictures that are being shot complement your dress and the outfits of your bridal party in the best way possible. This will allow you to look back on this day with joy knowing that you chose the right dress for you. There are just so many different dresses out there that you can wear for your wedding day.
The beach-y dress on the right is also so feminine but in a much more relaxed way. I love the thin straps which lead to an exposed back. The form-fitting lace bodice is the perfect juxtaposition with the flowing sheer overlay. The gown feels both classic and easy when styled with the loose beach waves and simple stone bracelets.
I love the backless trend for summer. I was actually a bit surprised to see the Kimye wedding did** feature an exposed back. And she did pull in so many beautiful lace elements in her Givenchy dress. And, just in time for all the spring / summer events coming up, the Dresswe cheap special occasion dresses promotion is going on right now with up to 75% off all special occasion dresses and accessories. This time of year can definitely break the bank so I hope this post can help find a perfect dress and at a manageable price point!
xoxo,
KMK