I had so much fun dressing up as a Starbucks Frappucino this year for my Halloween costume. On Saturday night, I went to a Halloween party and loved how easy it was to pull together my Starbucks costume in just an hour's time prior to leaving. It turned out SO cute so I thought I'd share another post in the "How I'd Style" blog series with my how-to tips for recreating this frappucino Halloween costume! However, some of you won't want to dress as a Starbucks Frap for Halloween and it's really easy to find ready-made unique costumes that you may prefer. A friend of mine who is addicted to cookies decided to go in a Cookie Monster costume, it paired up quite well with my own Starbucks costume, maybe you'd like to do a duo like that too! Whatever your idea of a Halloween costume is there is something out there for you. Why not take a look at https://www.hottopic.com/halloween/ where you can find lots of different designs and styles from horror to pop culture. You don't always have to leave it to the last minute and make one an hour before a party as I did!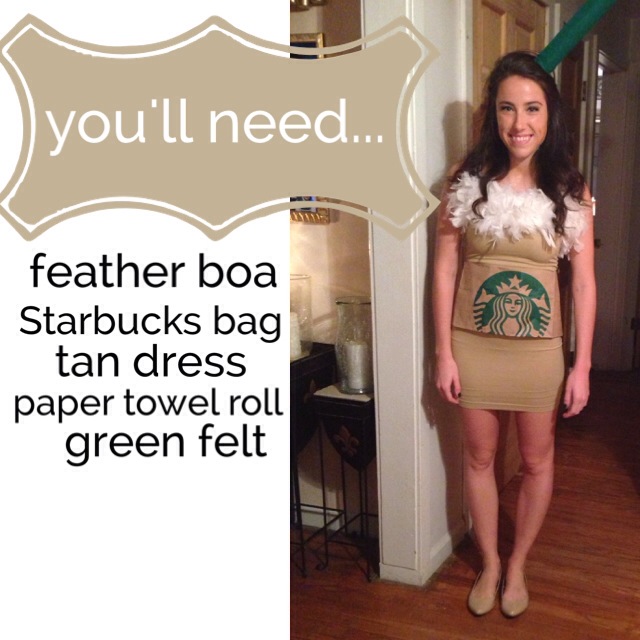 If you want to recreate my Frappuccino costume, when you've collected all the pieces to the costume (just a hint on the tan dress, you can find a cheap $5 option on ebay), follow these simple steps to create the look.
Cut the handles and top 2 inches off of the brown Starbucks bag. Open the bag up and cut it down the back so that it will wrap around your waist, centering the Starbucks logo on your stomach.
To create the straw, wrap the green felt paper around a paper towel roll and either staple/tape/glue it in place. I stuck a headband through the base of the straw to keep it on my head. But you could also just secure it to your hair with some bobby pins.
After putting on the dress, take the white feather boas and wrap them around the top. I simply tucked in the edges of the boa to the top of the dress. But you could also secure the boa with a couple of strategically-placed safety pins.
Then just wrap the Starbucks bag around your waist. Hold in place with more safety pins. Put on your straw and ta da! You're now a Starbucks Frappucino! (And it's tan because I love the coffee-flavored ones the best!)
Happy Halloween!
xoxo,
KMK
Let's be friends! Follow along on social media at –
YouTube | Pinterest | Luvocracy | Twitter | Instagram | Bloglovin'