In recent years, I have become such a fan of Lauren Conrad's style. She dresses much more feminine and polished than she did during the days of Laguna Beach. I've been trying to find clothes that match her floral and elegant style, which is definitely very individual. I did spot a few items on https://www.monroe-clothing.com/ that had a beautiful floral print, though I didn't purchase at that time. Her newest clothing line for Kohl's debuted recently and is basically the perfect summer lookbook. They're definitely worth purchasing if you want to see your wardrobe go from spring to summer. However, be wary that summer clothes are usually made of breathable fabrics like linen and silk. You need to know how to take proper care of these materials so that your clothes are looking as good as new throughout the summer months. If you want more information on how to properly care for your summer clothes, simply click here. Without further ado, below are some of my favorite pieces and some ideas on styling them for different occasions this summer!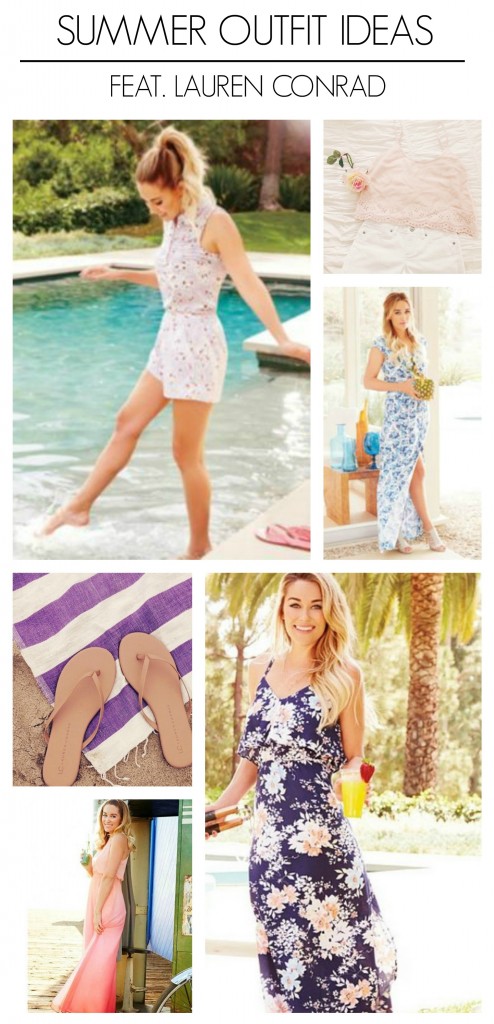 The Romper –
I love this sweet floral romper. This look is one of the most basic pieces to just rush out the door in during the hotter months. The pretty flower pattern isn't too overwhelming and is a fresh spin on such a basic piece.
The Crop Top –
As I've been chatting about quite frequently on the blog this season, crop tops are a really hot trend this year. I love that Lauren has put her feminine touch on this pastel pink romper by adding a pretty eyelet pattern along the bottom hem. Something like this would be perfect to wear on a lazy Sunday or on a summer shopping date.
The Maxi Dress –
Lauren mentioned in her "June Style Tips" article that she loved the high-slit trend this summer. I haven't seen it around too much but I like the execution of if in this "Sunset" maxi dress. I think this would be perfect for a date night. The white & blue pattern is so chic for summer.
Leather Flip Flops –
Such a staple summer piece. The slim straps from LC's Kohl's collection are so flattering and they come in other core neutrals like black, white, and gold.
Ombre –
This gorgeous chiffon ombre dress is simple yet stunning. It also comes in blue (which is definitely my preference). I could picture wearing a soft dress like this to brunch with girlfriends or for strolling down the boardwalk at night.
The Racerback –
I love racerbacks in the summertime. The cut is so flattering and looks extra feminine with a lacy bralette peaking through. This racerback floral maxi is another perfect look for a summer party.
To shop her entire collection, check out Kohl's site here.
Happy shopping!
xoxo,
KMK