To keep the X Games Series alive on my blog, today I have a post dedicated to the crazy lineup of performers scheduled for the X Games Aspen 2014 events this year. This is the second year where they're doing a X Games Music Presents, which are concerts that will benefit a cancer research foundation. Such a cool concept for a more than worthy cause!
This year, Matt & Kim, Pheonix, Tiesto, and Axwell are scheduled to perform. I'm not as familiar with Axwell, but I love the styles and sounds of all 3 of the other acts. As expected, I wish I was there and so I've put together a look which I think would be perfect for this type of event. A lot more thought and preparation has to go into dressing during the winter. You have to consider the cold temps and also precipitation conditions – will it rain, snow, freezing rain, etc. Eeek! That's why I particularly love this leather jacket with the cozy lining and of course have to have a fuzzy scarf and mittens!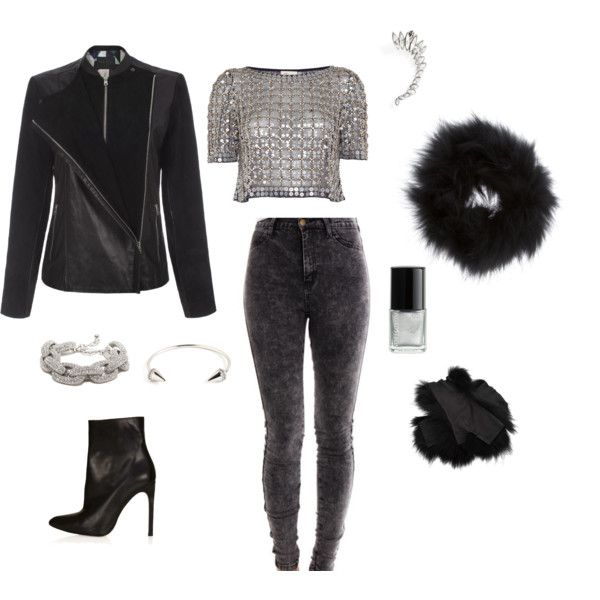 Temperley London Beaded Crop Top | Paul Smith Leather Jacket | Topshop High Heel Leather Boots | BaubleBar Pave Bracelet | BaubleBar Silver Bangle | Crystal Ear Cuff | Fur Scarf | Fur Gloves | Nordstrom Metallic Nail Polish
I'm kind of obsessed with the silver crop top. You might think, how crazy to try a midriff exposed look in Aspen during the winter. But, once you get inside a concert, things tend to get a bit hot in the tight crowds so I think pairing this with the high waisted acid wash skinny jeans from my own personal shop is a great concert look!
xoxo,
KMK