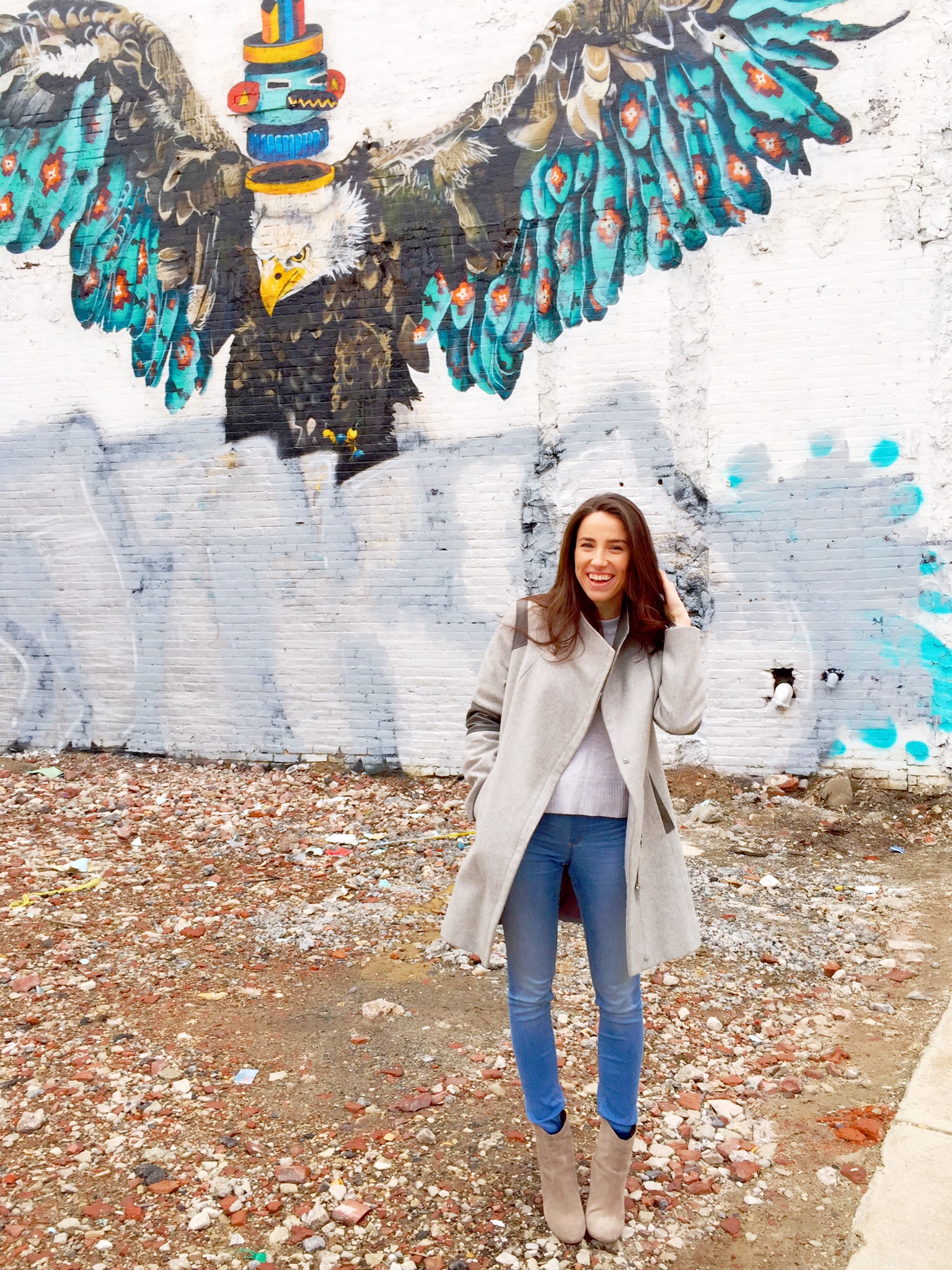 In the recent past, I haven't been a huge fan of faded denim. However after finding this comfy pair of faded jeggings at H&M, I am certainly appreciating the look of the light wash a lot more. The light blue denim looks so lovely paired with grey during this time of year. Yesterday was a beautifully grey Sunday and this color combo perfectly complimented the overcast skies. My two favorite girls and I made our way into the city for brunch with my brother and some of his college friends. Per the recommendation of my sister, we dined at Cook and Shaker in the Fishtown neighborhood of Philly. It was a great little corner spot complete with tin ceilings, Edison** light bulbs, and drinks served exclusively in Mason jars.
After brunching, we wandered through Northern Liberties and passed one of the best graffiti walls in the city. The California artist, Mauro Carrera, painted the most beautiful buffalo mural for this well traveled intersection. I am also obsessed with the eagle mural on the adjacent building but have yet to discover who is responsible for this piece.
Since this is the second time I have featured this gray mixed medium coat on the blog, I figured I should probably list out some new but similar options for you to shop below this time. I am linking up a bunch of my favorite items to recreate similar blue-grey looks. I think the faded denim is going to transition well from winter into spring. I can definitely see pairing these skinny jeans with pastel rose or light white tops as the weather lightens up a bit. I also found some great suede heeled booties like the Nine West pair here. The relaxed material really softens up a casual weekend day outfit like this.
– Shop the Look –
And if you're still on the hunt for Valentine's Day gifts, don't forget to check out the new Infinite Love Collection at Alex and Ani! The delicate heart necklaces and charms are the sweetest gifts for all the ladies in your life who are as excited about this holiday as I seem to be every year!
Thank you for reading! Subscribe on Bloglovin' to stay up to date with the latest posts.